Tina&Joyce
So today we went to Ulta and a local beauty store to buy some goodies. :D
Tina bought: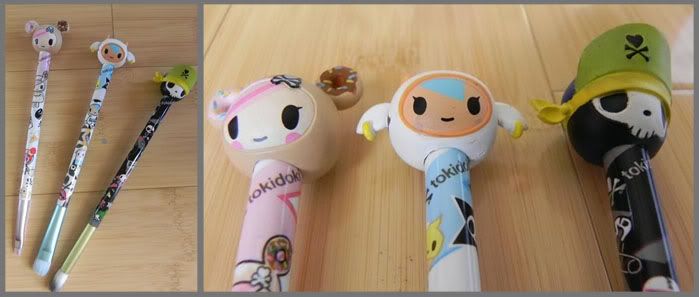 Tokidoki Puttura Brush Set
Donutella Angled Eyeliner Brush
Mozzarella Eyeshadow Brush
Adios Amigos Crease Brush
I've been looking for these babies! It's sold out everywhere, but I go finally got my hands on it! Muwhahah. Anyways I actually got these at Sephora on Sat. I love love love these brushes! They are super cute and are the basic brushes that everyone needs! They are SUPER soft (ohhh Babies Butt) and are great quality! Adios compared to MAC's 226, I'd say that the 226 is fluffier, but they both do an excellent job of blending. When comparing Donutella to MAC's 263, personally I like Donutella better because it's angle isn't as steep and I feel as if I have more control over it. One downside is that it's hard to store because it has the brush on one side and a detailed end. :( Also the brushes are a little heavier than normal brushes due to their eraser like characters at the end of the brush. (It's okay though because it's cute :D)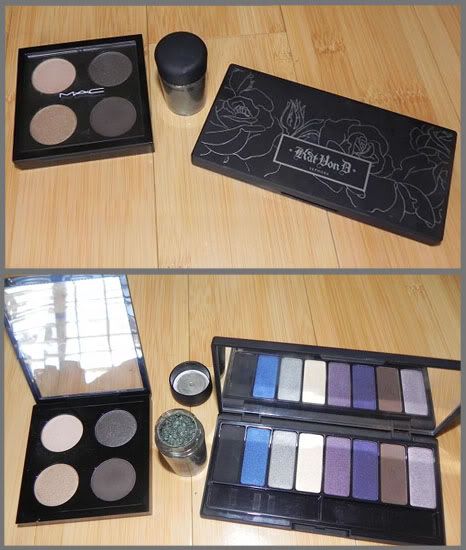 On the left and middle is the eyeshadows from MAC
The Fabulous Feline Burmese
Pigment
On the Right side is Kat Von D
Beethoven
Okay so I did my mom's makeup yesterday and I use the MAC palette and pigment. Burmese Beauty is a very unique color. When it's paired with brown it's more green, when its paired with green it's more brown! I guess I'm easily amused but I thought it was pretty cool. So usually I am not a fan of green eyeshadow but I surprisingly loved Antique green. It is kinda like an evergreen color. It is a green that you could pack on that would be suitable for day or night.
The Kat Von D Palette is AMAZING for smokey eyes. I have only used Lucifer and Leather which is a matte black and brown. I shall update you on how the other colors are, which I'm sure will be perfect!
China Glaze!
Left to Right:
I just bought these today, so I haven't gotten a chance to use them, but don't they look Yummy? More nail polish for my nail rack. Teehee. Ahh I'll be sure to put swatches on soon! I also bought some detail brushes which look pretty awesome, can't wait to try them out. :D
Joyce bought:
NYX Jumbo Pencils
Milk
Black Bean
ULTA Lip Pencils
Rose
Espresso
Mink
ULTA Eye Pencils
Aqua
Charcoal
Espresso
China Glaze Nail Polish
Grape Pop
China Rouge
Style Wars
Goin' My Way?
Emerald Fitzgerald
Eyes Like a Sapphires
Happy Go Lucky
Black Diamond
White Out
Branding Iron
Like Tina, I just bought these so I haven't had the chance to use em. I'll write a blog about all these products later!
Enjoy & Thanks for looking!
-Tina&Joyce