Okay so I'm pretty excited about this blog stuff so heres another blog! Haha, We probably don't even have any viewers yet.. allwell.
I've had many people asked me in the past how do you keep your hair so healthy when dying your hair all the time. Well, I don't dye my hair "all the time". Usually once you dye it, you should leave it alone for 3+ months before dying it again. You need to let your hair rest. Since dyes are very harsh... in the mean time you need to repair your hair and let it recover! You can do this routine even if you don't dye your hair. No matter what it will just make it healthier and make you happier.
Condition.Condition.Protect.
So when I say double condition, I don't mean you need to condition your hair rinse and repeat. You need a deep conditioner and a leave- in conditioner.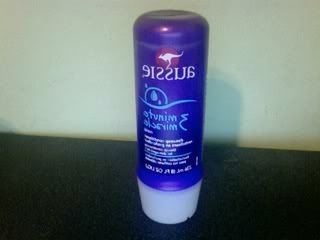 This is the deep conditioner that I have been using for who knows how long.. It is inexpensive (under 3 dollars at Walmart) and works wonders. I use this probably around 3 times a week depending on the weather and how my hair is. When using it make sure you concentrate on ends of your hair and your mid shaft. I don't really put conditioner around the hair near my scalp. Heres the reason why, when having long hair (my hair) your natural oils have a hard time reaching your mid-shaft and the ends of your hair, it stays around the area of your scalp, therefore you need to concentrate on those spots when conditioning. Where as for shampooing you would concentrate on the hair near your scalp. The bottle says to leave in for 3 mins you can leave it in for that long or even longer ( really depends on the damage of your hair). You could even leave the conditioner and wrap your hair with a warm towel then rinse in 30 mins.
*To help seal in moisture, try first rinsing your hair with warm water, lather the conditioner to mid-shaft and ends, leave for desired time then rinse with cold water.
Step 2: Leave-in Conditioner
HealthySexyHair &Garnier Fructis
So after you rinse out your hair and your done with the shower add leave - in conditioner to towel dried hair. The ones that I've used and actually liked are the two above. I am currently using HealthySexyHair, which is a liquid based spray on conditioner. I recommend this one if your hair isn't severely damaged.
The one on the right is Garnier fructis Sleek and Shine. It is a cream based conditioner that is better for unmanageable and damaged hair.
Again concentrate on the ends and the mid-shaft. If you are using the cream base I have only used a dime size for my long hair. More doesn't necessary mean that it will be more conditioned.
*I rarely blow dry my hair, I always let it air dry.
Fantasia- Heat Protector&Got2b Guardian Angel
Now you need to protect your hair when using heating tools. (straightener or curling iron etc.) The left one is a serum that you need to really watch out on how much you put on because it will make your hair very oily... I would say like half a dime maybe even less I don't really use it anymore because of that reason but it will be good for people with thick and dry hair because it is Aloe enriched. (It is also a Hair Polisher) Got2b is an amazing brand. the Guardian Angel is a spray on liquid base they have specific ones for curls and for straighten. I like this one a lot because it is a spray and it doesn't weigh down my hair. (Plus it smells fantastic!)
Honestly if you use a leave- in conditioner you could skip the heat protectors... but if you really want to baby your hair, I highly recommend it.
Okay so thats about it! Remember to CCP and you will be on your way to healthier hair! If you have any questions leave me a comment or just let me know how it works out for you.
Enjoy&Thanks for Looking!